Born on October 7, 1959 in Brighton, East Sussex, England, his father a music industry executive, and his mother, Julie Brett, is a former ballet dancer and socialite.
Simon attended Dover College, but left before graduating, and worked a few menial jobs until his father managed to get him a job in the mail room of EMI Music Publishing. Simon worked his way up to a music publishing position, until the early 1980s when he left to form his own recording label, E&S Music with former boss Ellis Rich.
E&S Music had several hit records, attaining five singles on the UK top 40. Simon stayed on a few years and left by mutual agreement to pursue other ventures.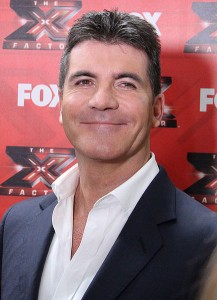 Simon went to work for Iain Burton at Fanfare records, and over the next eight years, he found success in the music industry. Eventually, he became a partner and helped build Fanfare into a very successful pop music label. Fanfare would see numerous top ten hits and sales of more than a half million copies of several of their artists. In 1992, Fanfare's parent company, Public Company fell into financial problems. Later that year, BMG bought Fanfare's assets.
Simon, in debt, moved back in with his parents. Later that year, he became an A&R consultant for BMG records. He signed up a number of successful acts to his S-records label and in 2002 he formed SyCo Records, Artists such as Leona Lewis, Il Divo and contestants from The X Factor and America's Got Talent are released on SyCo.
Simon became a judge on the first series of Pop Idol in 2001 and on the first season of American Idol in 2002. Then in 2004, Simon appeared a judge on the first series of the British talent show The X Factor', which Simon created using his production company, SyCo. The X Factor was an instant success with the viewers and has returned four more times to its fifth series in 2008.
In 2006 he signed on to remain as a judge on American Idol, earning £20 million per season for another 5 years. In the UK, he signed a deal with ITV, worth about £6.5 million a year for 3 years, which gave ITV rights to his hit talent show, 'The X Factor'.
On March 16, 2006, Simon's next reality competition show, American Inventor, debuted on ABC. Entrepreneurs from across the United States would compete to present their best inventions for a marketing prize package worth more than $1 million. The 2006 winner, Janusz Liberkowski, received $1 million and an offer from Evenflo for the opportunity to develop and market his idea.
He continues to develop more productions under the contract for BMG Sony and promote his label SyCo, while producing his competition/reality shows.
Simon's 2008 salary is about $50 Million, with a net worth of more than $200 million. He owns a home in Los Angeles and the UK. Currently he is neither married nor does he have any children.