Arlene Dickinson is one of the most renowned independent entrepreneurs in Canada.  She is the CEO of Venture Communications and YouInc.com.  Her success lies in her creative and strategic approach.  She is a dragon on the popular television show Dragons Den.  She is also the author of two books which are both bestsellers.  Her first book was named "Persuasion and the most recent one is "All In".
Over the years, she has received numerous awards and honours.  Her leadership and success has been recognised with awards such as "The Pinnacle Award for Entrepreneurial Excellence, PROFIT, Canada's Most Powerful Women Top 100 as well as Chatelaine's Top 100 Women Business Owners.  As a generous philanthropist, she has supported many causes and since 2010, she is also the national spokesperson for "The Breakfast Clubs of Canada".
Dickinson was born on 8th October, 1956 in South Africa.  She moved to Canada at a young age with her family.  Her father was also an entrepreneur and a teacher.   According to Dickinson, it is the values that her father instilled in her which helps her shape her decisions.   Out of everything that her father told her, one of the most important that she finds is "You have to take care of yourself, because society does not owe you anything".
Some people today conside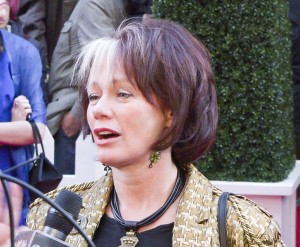 r her success a miracle.  This is because when she was nineteen, she got married and in the next eight years, she had four children.  It was during the same time when she had to work so she could pay her husband's university fees.  She wanted her husband to attain a teaching degree.   It was quite unfortunate that by the time she was 31, she marriage ended in divorce.  As a result of the divorce, she was kicked out of the Mormon Church and she also lost custody of her children.   According to the judge, Dickinson did not have enough resources to support her children and therefore she couldn't be granted custody of her children.  Despite the major setback, she was determined to achieve something in life.
Dickinson worked as a debt collector and also struggled to pay her bills.  When she would be busy making calls to delinquent borrowers in the day, debt collectors would be leaving similar messages on her answering machine.  Later, she managed to get a position in Venture Communications and it was in 1998 when she took over the company.
She is being recognised as a successful entrepreneur in Canada.  Over the years, she has offered marketing services to numerous companies including LCBO, Subway, Travel Alberta, Toyota and many others.  Today, she manages Venture Communications and a number of other side projects. She also takes time out for her children and grandchildren.