Philanthropist and entrepreneur Sir Alan Michael Sugar started his empire selling car aerials out of a van. He has amassed a fortune of around 800 million, and ranks in the top 100 Sunday Times Rich List.
Sugar dropped out of school at 16, and worked as a Statistician in the Education Ministry. Disliking the job he left the civil service for a totally new venture: selling electrical items. At 21 he registered the name Amstrad, a company born from a van. This name was devised using the letters from his own name: Alan Michael Sugar trading.
"I had no idea I would be so rich and successful. When I first started out my priority was to be self-sufficient and independent.," Sugar said. "I did not harbor big dreams. I simply knew that I didn't want to work for a boss and I set myself a target to earn a salary far in excess of my working-class background."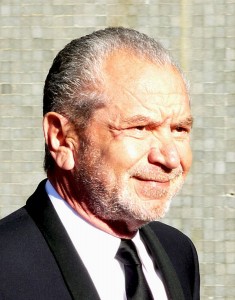 This fledgling company took Europe by surprise. Two years after its founding, it produced affordable hi-fi turntable covers using injection molding plastics opposed to the traditional vacuum molds. This gave his product a significantly lower price giving the company such success that it was to later be placed on the London Stock Exchange. During the 1980's Sugar's fledgling company doubled in share price each year and tapped into different markets.
In 2005, Sir Alan Sugar starred in the Apprentice, modeled after the American TVv-series starring Donald Trump. Sugar also controls Amsair Executive Aviation, founded in 1993 and run by his son, Daniel Sugar. As with Amstrad, Amsair's name is taken from his initials: Alan Michael Sugar Air. Amsair is a British private aircraft charter company that provides executive and business jet charters. Sir Alan continues his work with his companies, seeing his net worth almost double in the past twelve months, and awaits to host the next season of the Apprentice.