Born on January 29, 1954 in Kosciusko, Mississippi, Oprah Winfrey lived with her grandmother on a farm until she was six years old. From the age of 6 to 13, she lived in Milwaukee with her mother. At 13, claiming abuse, she ran away from her mother's home. The authorities sent her to a juvenile detention center. Denied admission to the detention center because of overcrowding, Oprah went to live with her father in Nashville. Her father, Vernon Winfrey was a strict disciplinarian instituting a midnight curfew and requiring her to read a book and write a book report each week.
This strict upbringing would later prove to be beneficial in Oprah's career. At 17, Nashville radio station, WVOL, hired her to read the news on the air. That same year she became Nashville's Miss Fire Prevention and Miss Black Tennessee. She enrolled at Tennessee State University, majoring in Speech Communications and Performing Arts.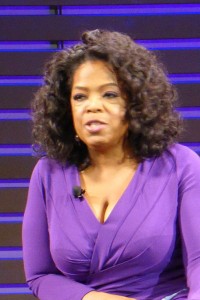 In 1973, Oprah became Nashville's first african-american TV correspondent and the youngest person ever to co-anchor news at WTVF-TV. In 1976, WJZ-TV in Baltimore, Maryland offered her a job to co-anchor the 6 o'clock news. After two years with the station, Oprah began co-hosting WJZ-TV's 'People Are Talking' talk show, while remaining an anchor and reporter.
Oprah soon discovered her talent as a talk show host and in 1984; she relocated to Chicago to host WLS-TV's "AM Chicago," a faltering morning talk show. Oprah proved her style and within a month AM Chicago became the #1 talk show in the region. Within a year the format was changed from a half-hour to a one hour show, and in September 1985 it was renamed "The Oprah Winfrey Show."
1985 would be the start of Oprah's rise to become the billion dollar woman as she starred in The Color Purple, which would earn her a Golden Globe and Academy Award for best supporting actress nominations. In 1986, she formed Harpo Productions as the Oprah Winfrey show enters national syndication and she stars in the feature film 'Native Son'.
In 1987 after a year in syndication, "The Oprah Winfrey Show" received three Daytime Emmy Awards in the categories of Outstanding Host, Outstanding Talk/Service program, and Outstanding Direction. Oprah hosted the 14th annual daytime Emmy awards that year. In 1988, "The Oprah Winfrey Show" received its second consecutive Daytime Emmy Award as Outstanding Talk/Service Program. Over the next 20 years, the Oprah Winfrey show would receive 40 daytime Emmy's.
Oprah has in addition received numerous personal awards from a variety of humanitarian to business awards and has been named to Time magazines '100 most influential people' three times. In 1991, Oprah initiates the national child protection act, testifying in front of the US senate judiciary committee to establish a national database of convicted child abusers. President Bill Clinton signed it into law in 1993.
In 1995, Oprah online on AOL debuts with ABC, her first venture into the world wide web. In 1996, she launched the Oprah Book Club, promoting authors, and their books through her show. In 1998, she co-founded Oxygen media and the Oxygen Network on cable and satellite. In 1999, Oprah launched Oprah.com, a woman's lifestyle website, where she also created the world largest book club.
In 2000, she launched 'O' magazine and went international in 2002. That same year her Harpo productions creates Dr. Phil, a new daily syndicate talk show, she launches 'Oprah after the show' on oxygen network and breaks ground for the Oprah Winfrey leadership academy for girls in West Africa. She also received the Bob Hope Humanitarian award and was an inductee into the Broadcasting and Cable Hall of Fame.
In 2003, Forbes magazine listed her as the first African-American woman to become a billionaire. She was able to achieve this great wealth through her persistence and diversification of her brand, Oprah.
Today, her show is more popular than ever and airs internationally as well as on XM satellite radio, and via the web through her YouTube channel. Since 2005, her website surpasses 100 million page views per month.