Born in Chicago on April 9, 1926, Hugh Hefner was the oldest son of Glenn and Grace Hefner. Attending Sayre Elementary School and later Steinmetz High on the West Side of Chicago, he was noted an average student despite his purported high IQ of 152. He involved himself more in extracurricular activities, rather than regular studies. Hugh was the founder of the school newspaper, and indulged himself in writing, cartooning and serving as president of the student council.
After graduating high school, he joined the US Army in January 1944; he served as an infantry clerk and drew cartoons for various Army newspapers. Upon his discharge in 1946, he enrolled at the Art Institute of Chicago for a summer course in art, and in the fall, he attended the University of Illinois in Champaign where he earned his bachelors degree. While at the University of Illinois, he was the editor of a campus humor magazine, Shaft, where he introduced a new feature called 'Coed of the Month'. Hugh also drew cartoons for the Daily Illini, a local newspaper.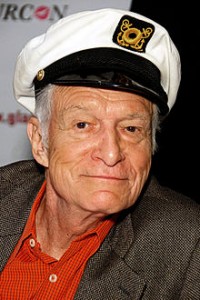 In June 1949, he married Mildred Williams, and during the 10 years of marriage, had two children, Christie (1952), and David (1955). At this time, he was interested in pursuing a career in cartooning, and after failing to be able to sell any of his ideas, he published a satirical cartoon book about Chicago, titled 'That Toddlin' Town.'
His first steady job after college was as an assistant personnel manager for the Chicago Carton Company, the following year he worked as an advertising copywriter for a local department store. In 1951, he landed a job that would propel his career into the publishing business, working for Esquire magazine as a promotion copywriter for $60 a week.
Esquire moved their headquarters to New York, and when Hugh asked for a $5 a week raise to make the move, they denied him. Hugh decided to stay in Chicago and start his own magazine. H enlisted the aid of a fellow copywriter at Esquire, however they were unable to raise the necessary capital. Then in 1952, he took a job as the newsstand promotion director for Publisher Development Corporation. To better support his family, he took a job as circulation manager of Children's Activities magazine in January 1953.
Hugh soon became obsessed with the idea to start a sophisticated men's magazine that would reflect the views of the post-war generation. In the summer of 1953, he convinced friends and family to invest more than $8000, and with a small loan from a bank using his furniture as collateral, he found a printer willing to print his first copy, and a distributor to distribute it.
The first issue of his magazine, Playboy, featured a cover shot of Marilyn Monroe from her 1949 calendar shoot. This first issue had no date, as Hugh was not even sure if he could produce subsequent issues. It hit the newsstands in December 1953, and sold more than 50,000 copies.
Hugh reinvested all the profits back into the publication and set out to hire an enthusiastic editorial, art, promotion, and advertising staff to assist him. His magazine grew at an unbelievably astonishing rate. By 1960, Sales were more than a million copies a month and to celebrate, Hugh held the first Playboy Jazz Festival at the Chicago Stadium, later noted to be the largest and greatest single weekend in the history of jazz.
Over the next 50 years, Hugh would see his magazine become an international sensation, as he built and developed his empire. In 1975, he made Los Angeles his permanent home, where he owns a five-acre estate in Holmby Hills known as the Playboy Mansion.
He was instrumental in film and television, and earned a star on Hollywood's walk of fame. In addition to being a member of several civic organizations, he supports jazz, education, and cinema through his donations.
In the mid-1980s, his daughter Christie took over as Chairman and Chief Executive Officer of Playboy Enterprises, however, Hugh remains as chief creative officer and editor-in-chief. The Playboy Enterprise includes print media, cable television, video production, licensing, and online ventures.
In 2006, he opened a casino in Las Vegas, Nevada, where he celebrated his 81st birthday in 2007. Hugh remains a constant figure on the celebrity scene in Hollywood as well as at his Playboy Mansion, where he continues to host weekly parties. Currently a feature film about his life, produced by Brian Grazer for Universal Pictures, is in the works.