Donald Trump began his business interest working with his mentor, his father, for five years. Through this he gained a huge knowledge of construction and some prestigious addresses gained the Trump signature. One such example is the Fifth Avenue skyscraper which is known universally.
Starting with the renovation of the Commodore Hotel into the Grand Hyatt, he furthered with Trump Tower and several other residential projects. He later expanded into the airline industry (buying the Delta Shuttle routes), and Atlantic City casino business, including buying the Taj Mahal Casino, then taking it into bankruptcy. This expansion, both personal and business, led to increasing debt. Most of the news about him in the early 1990s involved his much publicized financial problems.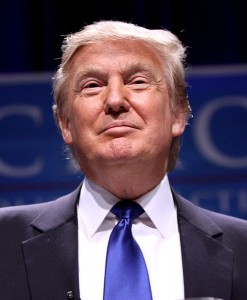 By the late 1990s a change took place in his financial situation and fame. In 2001 he completed Trump World Tower, a 72-story residential tower across from the United Nations complex. Within that same year, he began construction on Trump Place. Trump also has an undisclosed stake in Trump International Hotel and Tower, a 44-story mixed-use (hotel and condominium) tower on Columbus Circle. Trump currently owns over 18 million square feet of prime Manhattan real estate. Needless to say the Trump name is infamous.
He is the CEO of Trump Organization, a leading developer in the real estate market and the founder of Trump Entertainment, which operates gambling casinos. He has received a great deal of publicity following the success of his reality television show, The Apprentice, in which he serves as both executive producer and host. Just this year he received an honor for his contribution to the show by having a star placed on the Hollywood Walk of Fame.
One of the things I find most impressive about Mr. Trump is his honesty. In a time when the world seems infatuated by prosperity too many individuals find cause to take advantage. Quite often you will find get rich quick schemes on television and advertisements. Often these involve real estate and claim no money is needed to begin. They support this by saying they became wealthy with the skills they are willing to give you at cost which landed them in realty bliss.
Mr. Trump has commented often by acknowledging that it is, in fact, the funds obtained from individuals eager for wealth that likely complimented their financial status. He continues his speaking in a realistic and logical manner. One simply cannot fall into real estate. It is necessary to invest to some degree. While certainly he can provide people with skills needed to become wealthy in the field he doesn't offer such knowledge in a dishonest manner. Perhaps that has something to do with the reason why he is one of the wealthiest men alive.