Born in 1964 in New Zealand, Annette Presley is a communications entrepreneur who co-founded Slingshot which is one of the largest internet service providers in the country.  When little girls dream of becoming actresses and princesses, Presley dreamed of being her own boss.  She knew what she wanted from a very young age and that's what she has achieved.
Presley attended McAuley High School and in the 1970s, she attended Auckland Training Institute.  She is described as the most successful dropout by one of her tutors.  Before she switched to computer programming, she pursued a career in accounting.  She then went on to sell computers and then started an IT recruitment company in 1988.
It was during the 1990s when she met her future husband at a golf function.  In 1992, she moved to Australia with Malcolm Dick and founded Call Australia.  Today, the company employs over 200 people and has grown into a $100 million business.   In 1996, the couple returned to New Zealand after selling the company and in the same year, they launched CallPlus and i4free which in 2001 became Slingshot.  Presley and her partner had 45% stake each in Call Plus and the other 10% was owned by chief executive Martin Wyle.   While her partner managed the technical side, Presley represented the company publicly and in media and also appeared in advertisements.
The follow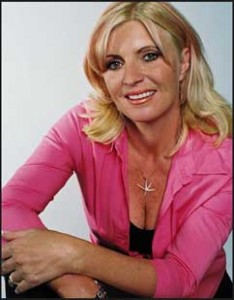 ing year,i 4free sued Telecom New Zealand.  The company was sued for over $18 million.  The Wellington High Court heard that Telecom's decision to force users to dial a prefix had limited the growth of i4free severely and it also delayed the launch of their services by 9 months.   The matter was settled out of court after a long battle.    In 2006, the pair separated and in September in the same year, it was announced that she was no longer the director of CallPlus.  Presley was unaware of this announcement as she was holidaying in Fiji at that time.  The couple had two children and when they separated, they were believed to have a combined net worth of $70 million.
Being a Dragon on the NZ version of the popular television series, Dragon's Den, Presley has made several investments and she has also been criticised by one of her co-dragons.  She is also the supporter of several charity organisations including Kidz First Children's Hospital, Dress for Success and Preventing Violence in the Home.
Today, Presley is still involved in her business, but her first priority is her children.  She wants to be more involved in starting camps for the underprivileged children in the south Auckland area.  Despite her money, fame and success, she knows where she is from and she wants to make a difference in that area by helping children who don't have the resources and opportunities believe in themselves and look at life differently.